Delightfully Dense and Delicious
Easy make-ahead breakfast for a week in the form of baked egg muffins loaded with meat and vegetables for a 26-gram protein boost with an overhead of only 264 calories and 5 grams net carbs for a satisfying start for the hurried morning. The beauty of these jewels is that you can go all sorts of directions with them. Want jalapenos, Add 'em. Want bacon instead of ham? Do it up. Want to give 'em the classic Tex-Mex Breakfast burrito vibe. Just add taco seasoning. It's a breakfast palette. Make it your own art! Use lots of colors!
Loaded Egg Muffins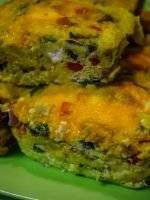 First of the "Breakfast for a Week" series is fully loaded egg muffins. These way tasty baked bombs of chicken spawned goodness freeze well and microwave up and fit into a wrap for an on the roll breakfast that blows the doors off of a fast food burrito.
Protein
1 dozen Brown Eggs (Large)
5 links Turkey Breakfast Sausage (chopped)
6 slices Canadian Bacon (chopped)
2 oz Cream Cheese (softened)
1 cup Shredded Cheddar
Vegetables
1/3 cup Red Bell Pepper (chopped)
1/3 cup Green Bell Pepper (chopped)
1/3 cup Orange Bell Pepper (chopped)
1 cup Red Onion (chopped)
1 cup Spinach leaves (chopped)
4 cloves Garlic (minced)
Salt, pepper and whatever else makes you happy (as desired)
Preheat the oven to 350 degrees.

Put all the ingredients in a pile and take a swell picture to wow your friends on Facebook with. I also find having all the ingredients in a pile to helps workflow.





Finely chop everything choppable. Except for the garlic, you can mince that.





Drop the whole shootin' match in a bowl and beat it.





Spray a muffin pan, or two if you're making the little round ones, with the cooking spray of your choice. , ladle the muffin mix into the spots provided by the aforementioned pan. Top with additional cheese and whatever else you deem appropriate.





Bake until golden on top and an inserted fork comes away clean. Around 45 minutes.




Great when entertaining, or individually wrap and freeze. To use the microwave on medium for about 2 and a half minute.