Norwich, Connecticut's Parks & Rec. Dept. does an excellent job with the funding they have.. Example bieing: The Rose Garde
Read More »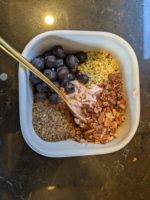 Blueberry Glue is a great quick power breakfast that is nutritionally balanced with 22 grams of protein and 13 grams of fiber from yogurt, blueberries and superfood goodness.
Read More »
The Great Courses Plus, now called Wondrium, is the best $10.00 a month I spend. I am taking three at a time and going beyond just what interests me (hard sciences – Geology, Oceanography, Climatology, Physics and Ancient History and embracing the things that work to make me better. Here's the three working now.
"Sure, we all got reasons. Nothing grows excuses quite like a good bed of reasons."
"Why would you want to be someone else? How do you know they are even any good at it?""
Unless your life is rainbows, unicorns who shit gold and fairies who fart perfume, you no doubt have your own tales of woe and despair. Lets not be about sad stories, but about joyous outcomes
Go with what you know and start walking in the direction of a better you. You may not have a clue what that looks like, but be ready to learn what you need to know and take the actions you need to take along the way.