Weight Loss, Nutrition and Wellness
My Personal Health Journey
I always struggled with body fat. Losing that battle caused me to also have to struggle with diabetes, hypertension and etc. It cost me more than I can account in the form of my eyesight and possibly lifespan. However, I have faith in God's grace, and that all things led me to right here just so I could tell you my story.
To the end that along with the telling you might be helped or blessed in some small way in your own struggles. I struggled and failed for 32 years. I admit for many of those years I just gave up all struggles and dwelt in depression, sickness and pain of my own creation.
This is the story of my journey from that state to this. Not only to weight loss and wellness gain, but in growing to a life that I love within a disability that I have adapted to. Its a series so subscribe!
Baby Steps - Big Steps: The Road So Far
From June 2014 to June 2016 I went from 290 lbs to 180 lbs, seven medications to no medications, and sedentary hermit life to the lifestyle and activities of my dreams. Here's the story (gloss overview).
June 2014 was when my journey towards health started in earnest following a series of awareness triggers. Triggers that led me in a direction of whole-self, or holistic, transformation where weight loss became the happy side effect of overall wellness gain.
I stepped off prepared with everything I knew about diet and exercise. Which is to say, Not much and much wrong. Starting with all fat is bad and a calorie is a calorie. I began to chart a course away from dietary fictions.
Photgraphy & Bent Meanderings
Achieving a better state of health was only part of the growth process upon which I embarked. Going places, hiking or at least walking a lot there and taking pictures became my go-to thing.
Its just what I do. The fly in my ointment is that being blind in the legal sense its really all a bit of a blur. Ok. A lot of a blur.
But I am good at framing a shot is a skill. And when my eye is a few inches away on a really big screen, it almost looks okay. With my beautiful and wise companion Margaret Webster and the little dog Aby, we roll about and do and see stuff. I cannot tell you how profoundly grateful for this woman I am, or imagine how limited my life could be without her.
I have found that being grateful is the key that opens oh so many doors. But I'm human, I forget sometimes. But the journey continues, and I along with it by the grace of God for now. Let me share with you!
Moving south from Connecticut to Texas in the RV. On this trip we will be hitting seral spots and taking over a month for the journey. We left Lake Williams on the 15th of Oct, 2021. Stops along the way are Ohio, Illinois, Missouri, Oklahoma and a couple of spots in East, South and finally Central Texas. Follow me here for the ride!
Schulenburg Texas is a small town at the incenter of a triangle whose points are Houston, Austin and San Antonio. Outside Schulenburg is walkable and cycleble roads that go forever through endless pastures. With Cows.
Bluff Landing is a Federal Recreation Area in Broken Arrow Oklahoma located on the Arkansas River of Death (ROD). Great campground with spacious sites. And $9.00 a night with a National Parks Access Pass.
We spent the week of October 17th visiting in a gated community outside of Eaton, Ohio called Lakengren. Built around an awesome 240-acre lake of the same name.
It was a great place to walk, and I learned about sidewalks
The Llano Earth Art Festival (LEAF) is an annual event held on the Llano River at Grenswiege Park in Llano Texas in the heart of the Texas Hill Country. LEAF hosts a soundstage, an appropriate selection of vendors and the way cool Rock Stacking Championships.
Is not what you'd expect to find in Middlebury, Vermont. But there it is.
Institute for American Indian Studies in Washington, CT is a great, albeit small museum with a great display of artifacts and knowledgeable staff.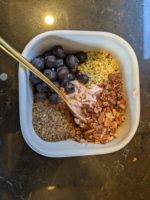 Blueberry Glue is a great quick power breakfast that is nutritionally balanced with 22 grams of protein and 13 grams of fiber from yogurt, blueberries and superfood goodness.
Read More »
Four-mile out and back from Comstock Covered Bridge to Day Pond Brook Falls through Salmon River State Forest and Day Pond State Park in Colchester, Connecticut
Read More »
Gillette Castle State Park has more to offer than the former home of legendary actor William Gillette. Hiking.
Read More »
This hike was an exploration of wildflowers at Buckingham Reservoir in South Glastonbury Connecticut in June of 2017. Numerous species of flowers could be seen.
Read More »